Badminton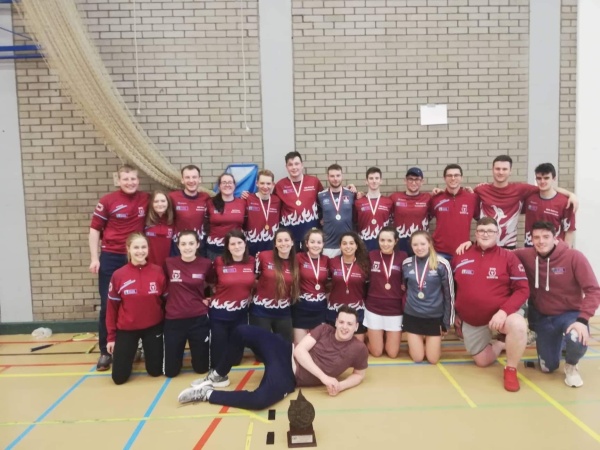 Hello and welcome to one of Univerisity of Galway's largest clubs. With 12 pristine Badminton courts available in the sports hall of the Kingfisher, the club attracts a wide and diverse range of students while currently having over 2500 members! The badminton club is a great outlet for taking a break from your studies and meeting new people. We provide a coach for both beginners and advanced players- and don't worry if you have never shaken hands with a racquet before...if you just take the first step we will help you with the rest. There are numerous tournaments to enter throughout the academic year such as annual team events including Intervarsities and the Irish ISBT, county championships and Connacht championships. However it's not all about competing! Many members are satisfied with friendlies during training and club nights out are a great way to make new friends. The club is open to only students of University of Galway. New members to the club, from beginners to advanced, are always welcome. Just email the club, or drop in to the Kingfisher Sports Centre during training and pick up a racket! Sure it's a bit of craic but beware - badminton is a highly addictive sport! 
History
Badminton is one of University of Galway's more recent clubs but definitely one of the fasting growing!

Competitive badminton has undergone a huge revival in the past few years, seeing the clubs introduction to the county leagues, the Irish ISBT and our very own annual doubles and mixed tournament as well as our continued involvement in the Intervarsities. Members also compete in the county championships and Connacht championships.
History was made in 2019 when University of Galway had their first ever Intervarsity win! After three long days of competing in Queens University Belfast, we came out on top with a win in the final over the hosts.

Achievements
2021/2022 Intervarsity runners up!
2018/2019 Intervarsity champions!
Our players dominated in the Student Sport Ireland singles tournament held in WIT bringing home a gold and bronze in the men's event and a silver and bronze in the ladies' event!

The grade D league team had a brilliant 2018/2019 season winning the All Ireland Interleague championships!

Club members also picked up a number of prizes across all categories at the Irish ISBT last year with singles, doubles and mixed winners throughout, as well as excelling in both county and Connacht championships.
In 2017/18, our grade H team won the Galway league and went on to further represented University of Galway in the ensuing County and All-Ireland championships.

In 2013/14 we had two winning teams in the county leagues, with one of these teams furthering their achievements by winning both the Connacht finals and the All-Ireland final.
Meetings
We train on Mondays from 6-8pm and Wednesdays from 9-11pm. All players, from international superstars to "I've only ever played in P.E." are welcome to come along at any of the times above. 
There are plenty of courts and equipment will be provided so don't worry if you don't have a racket of your own!
Contact Us
Please Contact us through our Instagram, Facebook Page or come and talk to any Committee member at training! We are always around!
You can reach us by DMing our Instagram page @universityofgalwaybadminton or through the Facebook page. Alternatively you can show up to the training sessions at any stage and talk with our lovely committee members directly!