Frisbee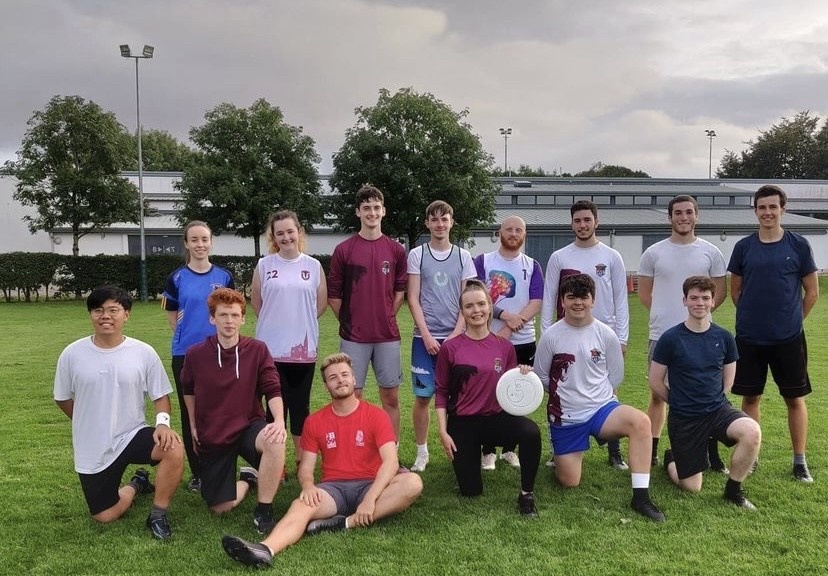 Fun and competitive sport with an incredible atmosphere and community. Perfect chance to try out something new and exciting in college if you have never played before! Played indoors with 5v5 and outdoors with 7v7.
Ultimate, often called ultimate frisbee, is a relatively new sport. Started in the late 1960's, it has grown in popularity, now with millions of practitioners worldwide. In Ireland it is one of the fastest growing sports, with under-24 male and female teams, as well as full male and female national teams. Earlier this year the Irish Women's Team won gold in the European championship, which is a huge achievement both in the discipline and nationally. NUI Galway students were part of the team, and are strong elements in the student coaching body.
Most major universities in Ireland are involved in the sport with many fielding 3 or more teams. There are as many as 7 Universities Teams, as well as 9 Irish clubs which train regularly. Here at Galway we have enjoyed much success, always finishing in the top half of varsities tables and finishing 3rd in 2009 and 4th in 2010 as well as winning the plate at the Siege of Limerick tournament in 2008, 2009 and 2014. If you're interested come along to training and see what you think of it.
Ultimate is a diverse sport, and allows players to play both same-sex matches as well as mixed. It is also a social sport, and encourages friendships to develop no matter the team. Spirit of the Game is a huge element of the sport, and puts good sportsmanship and fair play on the same level of wining. Frisbee is a self-refereed sport, meaning that there is no referee, rather it is up each player to be a steward of the game. Frisbee not only provides a good mode of exercise in the midst of study, it also gives you a huge circle of new friends, as well as increasing each player's self-confidence.
Check out this video of the tournament we held here in Galway in 2011:
http://www.youtube.com/watch?v=xvGakxWRILk
Remember Ultimate is a unisex sport so everyone is welcome and if you have any queries don't be afraid to drop us an e-mail. From Erasmus students here for just a semester, to beginners who've never touched a frisbee before, everyone is welcome to training and to we encourage anybody who is interested in joining to come along even just to one training session to get a feel of the game. All our members will be happy to answer any questions you may have. Alternatively, you can contact us on facebook (link below), which is probably the fastest and easiest way to get in touch. Here is a link to a wikipedia article on Ultimate, it may help clear up any misgivings you have about the sport: http://en.wikipedia.org/wiki/Ultimate_(sport) And here's a link to the The Irish Flying Disc Association website: http://www.irishultimate.com/
follow us on facebook:
http://www.facebook.com/galwayultimate
History
Catapulted from obscurity in 2005
Achievements
Mixed
Indoor Inter-varsities - 19/20 Spirit Winners, 17/18 3rd
outdoor Inter-varsities - 18/19 plate & spirit Winners, 17/18 6th
Yes But Nau (Beach tournament in France) - Compete in the mixed division annually
Women's
Indoor Inter-varsities - 19/20 7th
Outdoor Inter-varsities - 18/19 Spirit Winners, 17/18 5th, 16/17 2nd
Developmental's - 14/15 1st
Trinity Tea Party - 18/19 1st, 16/17 1st
Men
Indoor Inter-varsities - 19/20 4th, 17/18 5th
Outdoor Inter-varsities - 17/18 3rd, 16/17 5th & Spirit Winners
Siege of Limerick - 2020, 13th & spirit winners. 2014 Plate Winners
Developmentals - 17/18 2nd, 16/17 2nd
Trinity Tea Party - 16/17 2nd & 3rd
Meetings
Training times are:
Monday 5pm - 7pm at Dangan Rugby Pitch (experienced)
Wednesday 5pm - 7pm at Dangan Rugby Pitch (beginner focused)

Thursday 5pm - 7pm in the Kingfisher Sports Centre (Halls 1 and 2) (all levels of experience welcome) - Note, liable to Covid regulations
Contact Us
Email: frisbee@clubs.nuigalway.ie
Facebook: https://www.facebook.com/galwayultimate/
Instagram: Nuigalwaypanteras
Snapchat: Nuigultimate

Tiktok: Frisbeeclubnuigalway