Judo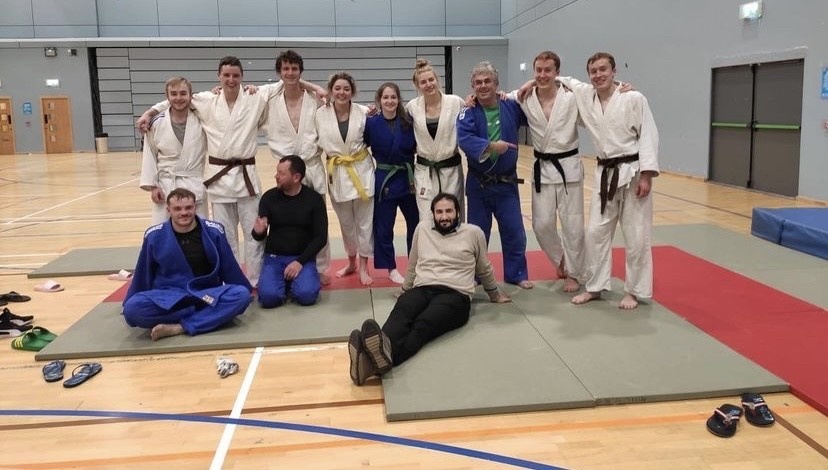 The University of Galway Judo Club was founded in 1965. We are the oldest and most successful martial arts club at the University of Galway. We have won over 20 intervarsities team titles in both Men's and Women's events. Most recently in the 2019/2020 Intervarsities held at the University of Galway, Ireland. Committee 2022/2023 Captain - JP Neville Vice Captain- Thomas Butler Treasurer - Dominic Butler Secretary - Etienne Morrison Co-Training Officer - Kevin Connolly Events Organizer - JP Neville P.R.O - Connor McCarron First-Year Representative - Rory Ward OCM - Eoin Gallagher Covid Officer - Cathal Mahon
Judo is a modern martial art and combat Olympic sport. It is one of the most popular martial arts in the world. Judo is a martial art based around throwing and submitting your opponent.
 Its most prominent feature is its competitive element, where the object is to either throw or takedown one's opponent to the ground, immobilize or otherwise subdue one's opponent with a grappling maneuver, or force an opponent to submit by joint locking or by executing a strangle hold or choke. Strikes and thrusts by hands and feet as well as weapons defences are a part of judo, but only in pre-arranged forms (kata) and are not allowed in judo competition or free practice (randori).

NUI Galway Judo Club was founded in 1965. We are the oldest and most successful martial arts club in NUI Galway. We have won over 20 intervarsities team titles in both Men's and Women's events.

Committee 2022/2023
Captain - JP Neville
Vice Captain - Thomas Butler
Treasurer - Dominic Butler
Secretary - Etienne Morrison
Events Organizer - JP Neville
P.R.O - Connor McCarron
First-Year Representative - Rory Ward
OCM- Eoin Gallagher
Complaining Officer - Riad Cheikh
Here are some of our players in action!
Why Join Judo? (According to past students)

"I started Judo in my 2nd year of university. I was instantly welcomed when I joined my first class. NUIG Judo Club is a place where you can become fit, make friends and learn how to protect yourself. There's something for everyone; whether it's representing your university at national and international competitions, being on a committee member! Both of which are a great addition to any CV. I got my first job thanks to connections I made through Judo. It's more than just a sport!

Some of my achievements include: 3 x All Ireland Judo University Champion, 2 x NUIG Individual Sports Award Winner, NUIG Club Captain 2012-2013â€

- Darren Friel            
"One of the best choices I made during my year abroad at NUIG was to join the Judo club. I really enjoyed my time with these great folks and hope to see them again in future. Even though I've never done this type of martial arts before, I've felt comfortable learning and trying new things in a safe environment. Normally Erasmus students mostly stay with other Erasmus, but through these Irish lads I got to experience real Irish craziness and way of living. Not to mention our great trainings including birthday throws but also taking part in the annual Judo Intervarsities. As a woman I can say this sport is a great way to gain confidence. They plan on a lot of activities even outside of training like trips, hikes and so on. Never would I have thought that I be doing a survival hike in bad weather conditions, but once they set their mind on something they are determined to do it even exposed to wind and weather. I really am sad that I only got to know the Judo Club in the Second Semester but in that short time I experienced so much. Intervarsities, Irish cancer walk, hike, get together after training.

I want to say thank you guys for making my year abroad unforgettable! I miss training with you. Hope you guys are doing great J Even if not for joining this fun club, I can highly recommend not to miss out on joining a club or society. You will not regret having a fantastic year!â€

- Nora Ma, Erasmus 2015/16
"I joined the Judo club in my first year of college. I immediately got taken in and met new friends. We didn't only travel to get to competitions all over the country but also had a lot of fun on surfing and hiking trips. Judo is an amazing sport and full of amazing people that are easy to connect with. I was new to Judo but learned and achieved a lot throughout my time there. Everyone was super welcoming and supportive and I'm glad I was a part of the Judo Club.â€

-
Sarah Muth, International Student 2017/20
"Why join judo?". My first answer would be: because judo is a great sport. It is a martial art that teaches you how to defend yourself, but also it teaches you respect and how to give the best out of you. Respect, Friendship, courage, honour and self control are part of its moral code (among other virtues). Judo helped me a lot, it made me who I am, and it made me meet some truly amazing people and it also made me travel (for the competition).

My second answer would be: join NUIG judo club, because it's a good club, you're going to feel supported and you're be part of a team. As an international student, I am thankful to NUIG because I met my friends at the judo club. I was a black belt when I arrived, and I had the chance to teach judo sometimes and this experience was a gift: I taught, but I learned a lot at the same time. Thank you everybody, for your friendship and your trust! PS: you can access the sauna, you can add that to the pros!
-Clémence Michaud, Erasmus 2018/2019
History
The University of Galway Judo Club was founded in 1965. We are the oldest and most successful martial arts club in the university. We have won over 20 intervarsities team titles in both Men's and Women's events. Most recently the 2020 Intervarsities held in the University of Galway, Ireland. 
In 2015 we won the most amount of medals we also retained our Mens team title and our third place womens title! 
We held a very successful intervarsities in Galway Kingfisher Club in 2020, we here again won the most amount of medals and took home the Mens and Ladies team title. 
Achievements
2019 / 2020  Achievements -
·         20th October 2019
Club attended Grading in Dublin. 2 members were awarded their Dan grades with one member achieved Brown belt.
1st time in history of club that 2 Batsuguns achieved in one day
Club had 17 contests - 16 wins and 1 draw. 
·         2nd November 2019
Club attended the Munster Open, Colaiste Chriost Rí, Capwell Road, Cork.
Ctook 3 Medals - 1 Gold, 1 Silver, 1 Bronze.
·         17th November 2019
Club attended the Connacht Championships, Renmore, Galway.
Member achieved Blue Belt.
Club took 7 Medals - 4 Gold, 2 Silver, 1 Bronze.
·         23rd November 2019
 North West International Open, Derry.
Club took 6 Medals - 3 Gold, 2 Silver, 3 Bronze.
·         6th December 2019
Club attended the All Ireland Senior Championships, National Arena.
Club took 3 Medals - 1 Silver, 2 Bronze.
·         22nd February 2020
All Ireland University Judo Championships hosted by NUIG Judo Club.   
Club took 23 Medals - 6 Gold, 5 Silver, 12 Bronze + Ladies Team Gold, Mens Team Gold & Throw of the Day + Mens Open.
·         7th March 2020
Club attended the Galway Open           
Club took 5 Medals - 2 Gold, 3 Bronze & Creaven Cup.
2014 / 2015  Achievements - 
·         4th of October 2014
Club attended Grading in Dublin.2 members were awarded their Dan grades. 
·         29th November 2014 
Club attended the North West Open.
·         7th December 2014
Connacht Championships hosted in Knocknacarra. 
Club took 8 Medals - 5 Gold, 2 Silver and 1 Bronze.
·         1st February 2015 
All Irelands held in Renmore. 
Club Captain, Stephen Bradshaw was the only competitior from NUIG and took Gold in his category. 
·         14th February 2015 
All Ireland University Championships 2015, hosted by UCC Judo Club.
Club took home 20 medals - 6 Gold , 4 Silver and 10 Bronze, also winning first in the Mens Team Event and third in the Womens Team event.
·         7th March 2015
Galway Open, hosted by Galway Judo Club. 
3 silvers won by NUIG.
2009/2010 Achievements -
·         CUSAI Intervarsities of the year award 2009/2010.
Meetings
Monday: 8-10 (All Levels)
Wednesday: 6-8 (All Levels)
Location: Kingfisher Sports Complex, Hall 3
Contact Us