Mountaineering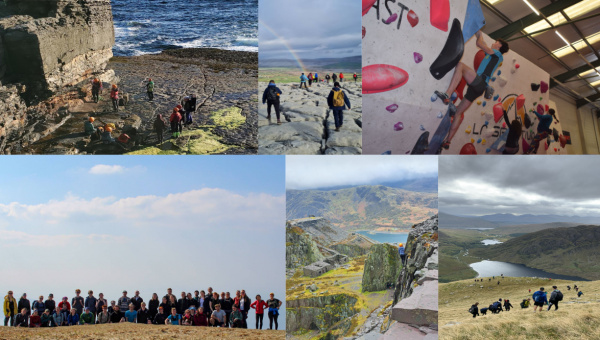 The University of Galway Mountaineering Club is actively involved in Hiking, Rock Climbing, Walking & Mountain Navigation Skills. Membership is open to all members of the University of Galway; undergraduates, postgraduates, staff and alumni.

Please check out our website for more information about the club www.ugmc.ie and follow us on Instagram HERE for a glimpse of what we get up to!

---
HOW TO JOIN: It's never too late to join! If you want to join the club please check out our website Joining the Mountaineering Club <-- Click me
---
Whether you are an international student, or were born and bred in Galway, taking part in club activities is a great way to get active, see the rugged beauty of Ireland, and meet some epic new people! 
History
The University of Galway Mountaineering Club has been in existence since 1970, which makes it one of the oldest mountaineering clubs in Ireland (aka UCGMC until 1998, NUIGMC 1998-2022). The club is one of the most popular in the college, and is becoming even more so, growing from 200 members in 1999/2000 to just under 1000 new members in 2005/06, to over 6,000 signed up on YourSpace in 23/25. Membership is open to all members of University of Galway; undergraduates, postgraduates and staff. This variety of membership gives the Club an interesting social mixture and a wide-ranging appeal. Everybody has a different idea of what they want from the mountains and the Club itself. The club simply aspires to enable members to enjoy the mountains with all types of walkers and climbers, while the more experienced help the newer members to savour new heights and views.
Achievements
Meetings
HIKING
We hike every Sunday throughout the semester in the Mountains of Connemara. The bus leaves the Quad at 09:30 sharp.
Keep an eye on our weekly email to see where we are heading each week!
Visit our website for full details on hiking with the club: Hiking with UGMC
CLIMBING
Climbing Lessons are held every Tuesday and Thursday. Visit our website to get started climbing Climbing with UGMC.
Climbing Training for Assessed Climbers is everyday, Monday to Friday, at the wall from 18:00 - 22:00. All details are available on our website UGMC Wall Info.
Contact Us
If you have any questions feel free to email the committee: committee@ugmc.ie