Sailing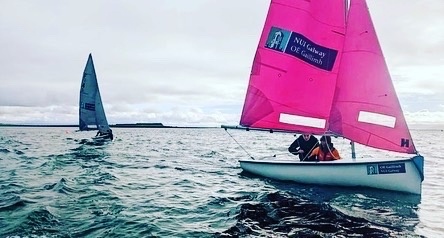 The University of Galway Sailing Club is one of the most exciting clubs in University of Galway. The club is over 30 years old and has competed at national and international level in dinghies and yachts. We run beginner and advanced dinghy training sessions on the fantastic Galway Bay. Taking people with no sailing experience and introducing them into one of world's oldest and most exciting sports.
Four times a year we travel around Ireland and compete with other universities in the national inter varsities team racing events. Bringing both our experienced team racers and beginner to give them a taste of national sailing regattas. 
With a host of experienced sailing instructors and international racers Uni of Galway SC is the best place to start your sailing career!
You can check out training times and upcoming events by joining the club via the Your Space site in the right hand side of this page.
History
Achievements
2006/07 - IUSA (Irish University Sailing Association) Club of the Year. 1st Easterns - Bronze Fleet 1st Westerns - Bronze Fleet Semi finals Intervarsities Silver fleet Winners of the Peter Armstrong Challenge Cup
2008/09 - 1st Nationals - Bronze Fleet.
2012 - Round Ireland Yacht Race - 1st place Class 2
2016/17 - IUSA Club of the Year
2016/17 - Irish Student Yachting Nationals @ HYC - 3rd place
2017/18 - IUSA Event of the Year for hosting inter varsities in Kilrush Marina
2018 - First university in Ireland to receive Irish Sailing accreditation (NGB of sailing in Ireland)
          - Wave Regatta - 14th Class 3
          - J24 Nationals FYC - 3rd Bronze Fleet
2021/22  we won club of the year and competed at Varsities winning many races in our gold and silver fleet 
Meetings
We train at Galway Oceansports Club which is located next to Galway Harbour Docks. 
Check our Instagram and WhatsApp groups for information on training, as it changes week-to-week due to changing weather conditions, etc.
We cater for beginners (no experience required) right up to the more advanced competitive sailor and everything in between.
Please bring your own gear if you have it - Change of clothes, towel, swimsuit, wetsuit, old pair of runners/booties, waterproof jacket, gloves, wooly hat etc...
Please note that training is weather and tidal dependent. If we think a session will be blown out due to bad weather we will advise you in advance and do our best to organise a theory session or other activity as an alternative.
Contact Us
You can contact us / view our content via the following social media streams
Email: sailing@clubs.nuigalway.ie
Website: nuigsailing.com
 | Instagram | Team Racing WhatsApp | Beginners WhatsApp | YouTube | Facebook |