Weightlifting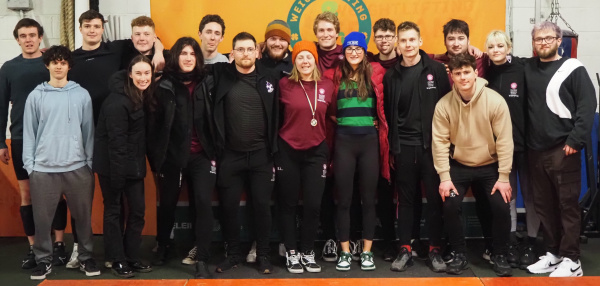 Welcome to University of Galway Weightlifting! Set up in 2016, we aim to introduce the sport of Olympic Weightlifting, commonly known as Weightlifting, to all students, staff and alumni in a fun and friendly environment.
We cater to all levels, from complete beginners to experienced lifters, and to all interests; from those who just want to keep fit, to those who wish to compete or use Weightlifting to improve performance in other sports. No prior athletic experience is required to join the club!
Weightlifting is made up of two competition lifts: the Snatch and the Clean and Jerk. The Snatch involves lifting the barbell from the floor to an overhead position in one continuous movement, while the Clean and Jerk consists of moving the barbell from the floor to overhead in 2 movements: from the floor to the shoulders, and from the shoulders to overhead.

Weightlifting competitions are held throughout the country during the year, including Intervarsities every February. We send a team every year and try our best to secure our name as the top University Team in the country.
Olympic Weightlifting is a weight classed sport, with athletes competing against others in the same category. Each weightlifter receives three attempts in each of the two lifts and the athlete who lifts the highest combined weight in the Snatch and Clean & Jerk in their category is the winner.
Women compete in 10 categories: 45kg, 49kg, 55kg, 59kg, 64kg, 71kg, 76kg, 81kg, 87kg, +87kg
Men compete in 10 categories: 55kg, 61kg, 67kg, 73kg, 81kg, 89kg, 96kg, 102kg, 109kg and +109kg
History
  Our 2019 Inter-varsities team

Our 2020 Intervarsities team
Our 2022 Intervarsities team
Intervarsities 2023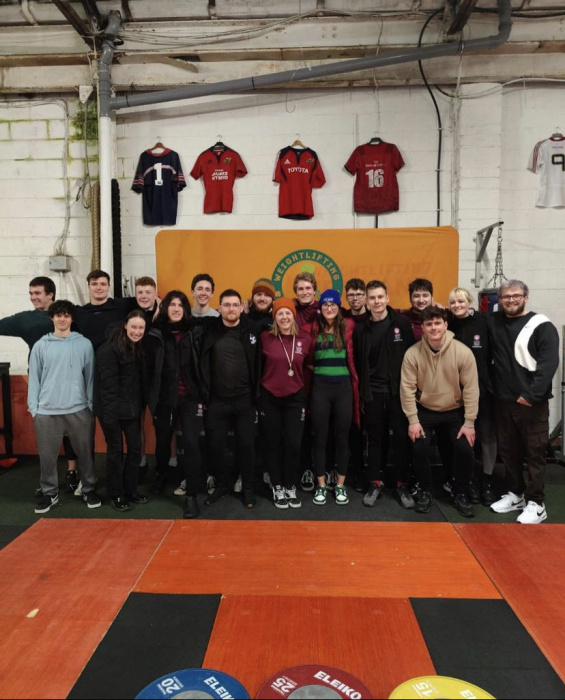 Achievements
Intervarsity Championships 2022: 1 Gold, 3 Silver, 2 Bronze.
National Age-Grade Championships 2022: 6 Gold, 2 Silver.
Intervarsity Championships 2023: 3 Gold, 2 Silver, 3rd place overall
Meetings
We train in Planet Health and Fitness (located above the bowling alley) on the Headford Road, and in the High Performance Gym (on Snipe Avenue, around the corner from the Kingfisher). Beginner training will be on Wednesdays at 6:30 p.m. in Planet Fitness, and Saturdays at 1 p.m. in the HP Gym. Further training times TBD. 
Contact Us
Find our Instagram page (@unigalwayweightlifting) using the Instagram icon at the top of the page for the most up to date information regarding training, and feel free to drop us a message there :)