Athletics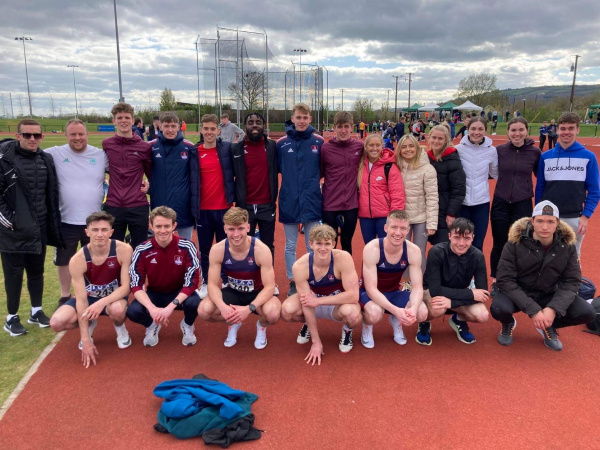 Athletics is a fun way to stay in shape, meet new people and show your competitive side. Whether you are a beginner or elite, our club welcomes and caters for all! The vast range of events open for athletes to try include cross-country, mountain running, distance running, sprinting, jumps, and throws. As a club, we have grown over the years to encompass both High Performance and Recreational Running. Our club is made up of athletes of all levels, from Dangan trail runners to Olympians.
The club has a history of success in both sprinting and distance disciplines. Matt Lockett is the passionate coach and mentor to the distance runners and is highly commended for his commitment. Brendan Glynn works tirelessly with the sprinters. Owen Scully has recently joined our coaching team and guides new athletes in our development team towards achieving their potential. 
Make sure to follow University of Galway Athletics Club on Facebook and Instagram to keep up to date on training, events and competitions! Athletics offers those interested the chance to challenge and enhance themselves on and off the field. Join us at training and find out for yourself!
Link to Facebook Page: https://www.facebook.com/NUIGAC/  https://www.instagram.com/nuigathletics/
Link to Instagram Profile: https://instagram.com/u.g.athletics?igshid=YmMyMTA2M2Y= 
History
University of Galway Athletics club has a tremendous background in track and field and cross country competitions. It has been home to world-class international athletes such as Paul Hession and Olive Loughnane. Recent representatives at elite international level include Sarah Quinn and Robert McDonnell. Everyone who joins the club is part of the team and has a special role, regardless of whether or not they partake in competition. The club competes in all intervarsity events and there are no individuals in these competitions as points are scored by all and everybody cheers everybody else on. The driving force behind the club is the committee, which is elected at the AGM. The Events page holds the AGM dates, details and committee members. New members are the lifeblood of any committee and are encouraged to join each year.
Achievements
2022/2023 Performances
University of Galway Distance Team Achievements
Outdoor Track and Field Championships 21-04-2023 DSD, Dublin
UG Women
Fiona Everard emulated her cross country dominance with another gold medal-winning performance, this time over 5000m.

UG Men
Kyle Moorhead earned an impressive silver medal in a fast 800m final, while Sean Cotter was a decisive bronze medallist in the 5000m.
Aaron Brennan narrowly missed out on a medal in the 1500m, finishing 4th in the final.
Cross Country Championships 04-03-2023 - UL Campus, Limerick
UG Women
The women's race was won in comprehensive fashion by UGAC's Fiona Everard.
UG Men
Team 3rd Overall
The scoring members of the team were:
Dónal Farren 7th
Luke Johnston 10th
Patrick Noonan 12th
Oisín Murray 16th 
Oisín Davis 17th 
Kyle Moorhead 25th
Indoor Track and Field Championships 28-01-2023 - National Indoor Arena, Dublin
UG Women
A fine bronze medal went to Fiona Everard in the 1500m.
UG Men
Jack Maher was an impressive 3rd in a hotly contested 1500m final.
Sean Cotter was 3rd in the 3000m, with Patrick Noonan following closely behind in 4th.
Road Relay Championships 11-11-2022 - National University of Ireland, Maynooth
UG Men
Our men's team finished third as Patrick Noonan impressed with the fastest mile leg of the day.
They lined out as follows:
Kyle Moorhead (1 mile)
Sean Cotter  (2 miles)
Thomas McStay (3 miles)
Luke Johnston (2 miles)
Patrick Noonan (1 mile)
2021/2022 Performances
Achievements University of Galway Athletics Sprint Team

Robert McDonnell Indoor National 200m Champion

Robert McDonnell Indoor Varsity 200m Champion

Robert McDonnell, Shane Mooney, Andrew Egan, Nikola Banek, 3rd Place 4x200m Varsities

Sarah Quinn 2nd Place 60mh Indoor Varsities

Sarah Quinn, Niamh Foley, Niamh Malone, Sinéad Treacy 4x200m Indoor Varsity Bronze

Shane Mooney 2nd Place 60mh Indoor Varsities

Robert McDonnell 60m Indoor National u23 2nd Place

Aaron Keane 400m u23 National 2nd place

Robert McDonnell Outdoor Varsity 200m Champion and Championship Best Performance of 20.67

Andrew Egan 3rd Place Varsity 200m

Sinéad Treacy 400m Varsity Champion

Shane Mooney 2nd 110mh Varsities

Sarah Quinn 100mh Varsity Champion

Andrew Egan , Shane Mooney, Aaron Keane, Robert McDonnell, 2nd 4x100m Varsities

Andrew Egan , Shane Mooney, Aaron Keane, Robert McDonnell 1st Varsity 4x400m with Irish Universities Record

Andrew Egan 200m Silver National Championships

Sarah Quinn 3rd National Championships

Andrew Egan Junior Nationals 400m 3rd
Achievements of University Of Galway Athletics Distance Team
Cross Country 26-09-2021 DCU Sportsgrounds, Glasnevin

Women's

Aoife O'Brien 11th

Mens:

Team Champions

A comprehensive victory

Pierre Murchan 2nd

Thomas McStay 3rd

Donal Devane 6th

Finley Daly 8th

Dónal Farren 10th

Aaron Brennan 12th

Conor Deane 17th

Cormac MacDermott 20th

Jack Miskella 30th

Neill Keane 45th

Road Relays 13-11-2021 NUI Maynooth

The womans event has legs as follows: 1 mile, 2 mile, 2 mile, 1 mile. Out of 25 teams these are the results.

Women's 'A'  11th

Women's 'B' 22nd

The mens event has legs in the follwing order 1 mile, 2 mile, 3 mile, 2 mile, 1mile. 29 teams took part.

Mens 'A' 4th

Mens 'B' 9th

Mens 'C' 12th

Also of note was our own Jack Miskella taking the fastest mens miler of the day

Indoors 29-01-2021, AIT

(Top 10 performances only)

Women's

3000m Aoife Kilgannon 1st

Mens

800m Roland Surlis 1st, Kyle Moorehead 9th

1500m Jack Miskella 4th, Patrick Noonan 10th

3000m Finley Daly 4th, Aaron Brennan 9th, Sean Cotter 10th

Cross Country 05-03-2022 Santry Playing Fields

Women's

Emma Jourdan 22nd

Aoife King 26th

Rachel Hughes 35th

Anna McGinley 41st

Team: 7th

Mens

Back to Back Champions!

Donal Devane 4th

Finley Daly 7th

Sean Cotter 10th

Donal Farren 11th

Aaron Brennan 15th

Luke Johnstone 16th

Patrick Noonan 24th

Andrew O'Donnaigle 28th

Conor Deane 31st

Jack Miskella 35th

Cian Coyne 57th

Brain Martin 78th

Outdoor T&F,  IT Carlow

(Top 10 performances)

Womans 800m

Rachel Hughes 5th

Womans 1500m

Maebh Brannigan 5th

Caoimhe Kelleher 10th

Womans 3000m

Anna McGinley 10th

Mens

800m Kyle Moorehead 2nd, Federico Castriota Scalderbeg 8th

1500m Aaron Brennan 1st

3000m S/C Patrick Noonan 3rd

5000m Donal Devane 4th, Sean Cotter 5th

10000m Luke Johnstone 4th

3rd on the medals table
2018/19 Performances

Outdoors
NUIG AC 3rd overall
In the most successful season in the clubs history NUIG AC rounded up the outdoor intervarsities finishing 3rd overall the highest standing the club has reached in its history for the first time ever.
Aoife O'Brien had a Gold medal performance in the steeplechase with a NUIG record of 11:46.41
Sarah Quinn found silver in the 100m sprint with a NUIG record of 12.10
Damien Landers earned silver in the 10000m with an NUIG record of 30:47.65 and the 5000m still to come.
The woman's 4 x 400 of Ciara Barry, Ellie O'Toole, Sarah Lanigan and Nicole Walsh raced to silver medals.
The woman's 4 x 100 of Nicole Walsh, Sarah Quinn, Ciara Barry, and Ashling Forkan raced to silver medals in a thrilling race tainted with drama.
Fergus Cox produced a stunning performance in the Men's javelin to see him take a Bronze medal and also an NUIG record 56.28
Damien Landers followed up an earlier silver medal with a bronze in the 5000m with an NUIG record of 14:51.22
Finley Daly crossed the line after the 3000 steeplechase with a hard fought bronze medal in a time of 9:48.67
 Nicole Walsh was 3rd in the 400m with NUIG record of 56.98.
The Men's 4x100 of Shane Mooney, Jonah Erugo, Owen Scully and Robert Meagher ran 43.40 to claim bronze and a new NUIG record.
To Finish off the weekend the Mens 4x400 stepped up to take Bronze Aengus Meldon, Jonah Erugo, Owen Scully and Robert Meagher
Other NUIG records went to:
Eoghan Rodgers in the Weight for Distance with a throw of 7.36
Bridget Mc Dyer in Shot Putt with a putt of 10.14
Jonah Erugo in the 200m with a time of 22.31
Indoor
NUIGs Women were 3rd overall                                             NUIGs Men were 5th overall

Individually we had Podium performances from:
Damien landers was silver in the 3000m setting a new NUIG record of 8.23.41.
Shane Parle was silver in the high jump setting a new NUIG record of 1.90
Nicole King, Ciara Barry, Sarah Quinn and Sinead Treacy were gold in the women's 4x200m relay setting a new NUIG record of 102.7
Bridget Mc Dyer won bronze in the Ladies Weight For Distance setting a new NUIG record of 6.60m
Other point scoring performances included:

Ciara Barry 6th in the 200m
Aengus Meldon was 5th in the 800m setting a new NUIG record of 1.57.72
Nicole King was 4th in the 200m setting a new NUIG record of 25.51
Sarah Quinn was 6th in the 60m hurdles setting a new NUIG record of 8.97
Cormac Lynch, Robert Meagher, Owen Scully and Jonah Erugo were 4th in the men 4x200m relay setting a new NUIG record of 92.12
Bridget McDyer 6th in the Shot Putt
Aisling Keady 5th in the long jump
James Frizzell 6th in the 1500m.
Other performances on the day included: Aisling Joyce, Matthew McKernan, Jonah Erugo, Mark Carmody, Robert Meagher, Owen Scully, William Flynn, Cormac Lynch and Talon Thompson
Cross Country
NUIGs Men 3rd overall                                                                  NUIGs Women 4th overall

An individual medal on the day for NUIG won by Damian Landers who came 2nd in a trilling men's race. A unique and special medal to the club as the intervarsity cross country competition was hosted in Galway by NUIG AC.
Meetings
Track Slots for UGAC are as follows: 
Sprints/Field events: 
Monday 18:30-20:00 (Development and High Performance)
Wednesday 17:00-19:00 (High Performance) 
Thursday 18:30-20:00 (Development and High Performance)
Sunday 18:00-20:00 (High Performance) 
Distance: 
Tuesday:  17:15-18:45 
Thursday:  17:15-18:45 
Saturday: 10:00-11:30
Contact Us
Email us at :athletics@clubs.nuigalway.ie 
Message us on Facebook: https://www.facebook.com/NUIGAC/
Follow us on Instagram: https://instagram.com/u.g.athletics?igshid=YmMyMTA2M2Y=