Table Tennis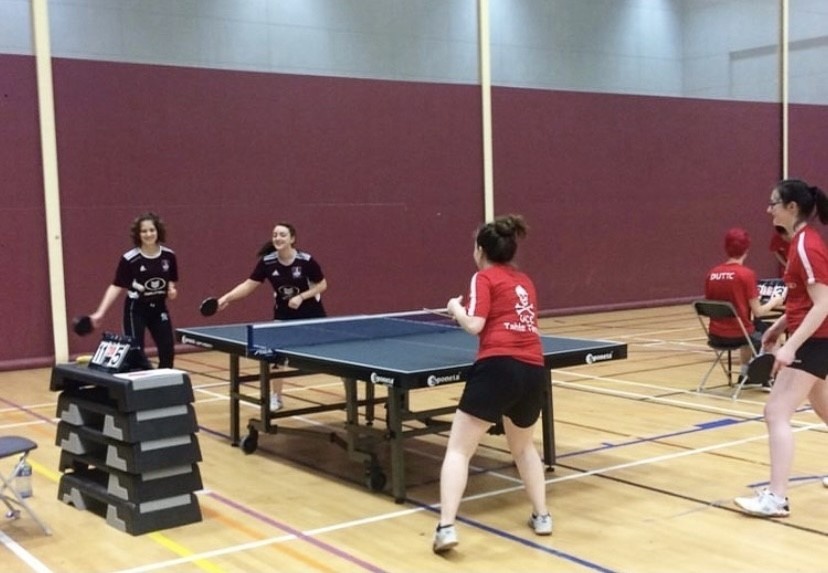 Table Tennis, a sport enjoyed by young and old so there is every reason to come down and join in the fun with everyone in the club! We are now proud to announce we also have a very successful girls team.
Table Tennis is hugely popular all over Europe and Asia, and is gradually becoming more popular in Ireland, being introduced in schools all across Connaght. When played intensively, table tennis is lauded for being aerobic exercise, exercising both the upper and lower body as well as increasing hand-eye coordination. According to Dr. Amen, "Golf is good; tennis is great; table-tennis is the best sport in the world!"
The NUIG Table Tennis Club caters for players of all standards, with some who wish to train intensively with our coach, Tom Shaughnessy, and others who simply play for fun. Every year, the club holds exciting in-house tournaments for example a tournament with players from GMIT. Furthermore teams from NUIG Table Tennis Club attend various competitions with other institutions, including the Colleges Table Tennis League in UCD and the intervarsities.
Everyone, under-grad. and post-grad. alike are welcome!
History
The NUIG Table Tennis Club was reestablished at the start of 2010, and is based in the Kingfisher Club. 6 new championship tables were shipped in from Germany. In 2013. the club won the NUIG leadership award and was presented with €14,000 to purchase an extra 8 new table as well as two robots, making us the best equiped club NUIG.
In 2014 NUIG hosted the all Ireland Intervarsities.
Past Captains:
2010/2011 Mark Bohacek
2011/2012 Declan O'Loughlin
2012/2013 Johannes Meyer zu Wendischhoff
2013/2014 Artur Gower
2014/2015 Bartek Zaucha
2015/2016 Sean O Connor
2016/2017 Gabriel Brown
2017/2018 Oisin Fiszu - 2017/18 Vice Amanda Taylor
2018/2019 Gabriel Brown- 2018/19 Vice Sophia Cogan
2019/2020 Amanda Taylor - 2019/20 Vice Sophia Cogan
2020/2021 Sophia Cogan - 2020/2021 Vice Amanda Taylor
Past Honorary Chair:
2013/2014 Declan O' Loughlin
2014/2015: Damien Griffin
Achievements
Colleges Table Tennis League:
2011/2012: 4th place.
2012/2013: 2nd place.
2013/2014: 3rd place
2014/2015: 5th Place
2015/2016: 4th Place
2016/2017: 3rd Place
2017/2018: 4th Place
2018/2019: A Team 2nd  B Team 1st
2019/2020: A Team 2nd B Team 1st
Meetings
Thursday: 6 p.m. to 8 p.m.
Friday: 6 p.m. to 8p.m.
Training on Thursday takes place in hall 3 in the Kingfisher.
Training on Friday takes place in hall 1 in the Kingfisher
Players of all standards are welcome. 
Contact Us
For any queries, do not hesitate to email us. 
Email Address: tabletennis@clubs.nuigalway.ie
Instagram: @nuigtabletennis