Windsurfing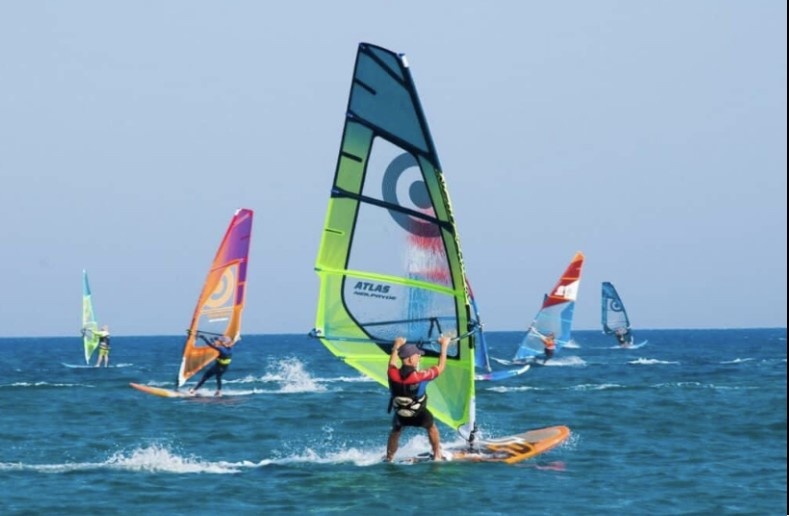 After being a bit quiet for a while, the NUIG Windsurfing Club is finally starting to get going again. The club caters for anybody interested in windsurfing, from beginner to seasoned pro. If you'd like to come out windsurfing, even just to give it a try, you should join the club. We run sessions on the weekends as frequently as possible with all equipment provided and experienced instructors there to help get you going. No previous experience is at all necessary. If you'd like to sign up, you can do it through your account or you can email us windsurfing@clubs.nuigalway.ie. Hope to see you on the water soon!
After being relatively quiet for a while the NUIG windsurfing club is finally building back up again. Whether you are an experienced windsurfer looking to get out on the water again or you have never even heard of windsurfing before, it would be fantastic if you will join us on the water. It's a great sport with great variety within it. A mixture between surfing and sailing, at the beginning you will learning how to balance and control the board, then as you progress you will learn how to build up speed and start flying across the water! For the experienced windsurfers we can share tips of how to do things like jump the board and hopefully even things like loops. No previous experience is at all necessary, all our committee members are very experienced windsurfing instructors (and a good bit of craic too!) and will cater for those of any level.
Our usual way of running things would be to hold weekly sessions on either Saturday or Sunday. We provide all the gear including the equipment itself, wetsuits, lifejackets, etc, literally everything except swimsuits and a towel. This year we will be hopefully aiming to do something similar, however unfortunately they may not be running as often. We will keep you updated on that via email and our Facebook page. Last year we also tried to organise a few trips away, in particular an abroad trip to Gran Canaria at the end of last year (unfortunately we were not able to go in the end because of Covid). This year we will be monitoring the Covid situation closely and at the moment, purely from a safety point of view with regards to the virus, we have no plans for trips for semester 1. Hopefully, we may be able to run some in semester 2 (fingers crossed) but we are not sure yet. Our big thing will be the weekend sessions, we'll try our best to keep them running as frequently as we can.
So perfect yeah that's all the important stuff (I think anyways). Thanks, and hopefully see you on the water soon!
History
Windsurfing is an amazingly young sport. Its roots are easily traced back to the garages of two Southern Californians. Jim Drake, a sailor, and Hoyle Schweitzer, a surfer, got together and thought about what could be... By 1968, they had combined their two sports into a workable, if not somewhat unusual, patented new hybrid sport. Schweitzer logically called it windsurfing, and the board, a windsurfer. The early 1980's were a period of tremendous growth for windsurfing. Racing participation was at an all-time high, the professional World Cup tour was born, and the sport was awarded with Olympics status in the 1984 Los Angeles Games. Equipment development progressed at a fevered pitch through the mid-80's as seen when a windsurfer captures the world speed sailing record at slightly faster than 36 knots. Since then, windsurfers on extremely specialised equipment, sailing in winds of 40 knots and above, have pushed that speed up to an incredible level. Now, after 27 short years, windsurfing is a fully matured sport, with destination resorts all over the world. Everyone from little kids to old fogies are windsurfing - practising the best sport in the world!!!
Achievements
Meetings
Weekend sessions will be happening as frequently as possible. Information regarding time etc will be sent out via e-mail.
Contact Us
Sports Desk,
University Sports Complex,
National University of Ireland, Galway,
Galway.